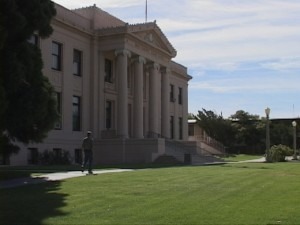 To allegations that his client, Angel Schat, abducted her son, attorney Rick Wood said she complied with the legally agreed-on custody order in terms of travel. He expects to clear up the misunderstanding at a court hearing on Monday.
Wood said that the father filed for an emergency order giving him custody. He said the judge declined to issue that order Friday and instead ordered a hearing Monday. Attorney Wood explained that the arrest warrant on Angel Schat was issued "based on the allegation that the mother abducted her child." Wood said there was no abduction. He said Ms. Schat "has sole physical custody of her son and there is no limit on travel."
Wood made the distinction between travel and relocation. He said if Schat had been relocating with her son, she would have had to get permission from the father. Wood said she was visiting Reno. Wood further said that Angel Schat let the father know she was going to Reno. He repeated that the legally agreed upon custody order does not restrict travel.
A Bishop Police press release said they received information that Schat "might be at the Reno/Tahoe International Airport in Reno." The release also said that video surveillance showed Schat and the child leaving the airport. Schat was stopped and arrested around the Walker Lake area by Mineral County Nevada deputies.
The arrest was apparently based on the father's complaint that he believed Angel Schat was trying to leave the state. Wood added that the father, Sean Singleton, has spent "85% of the child's life in prison." He said the child, 4-year-old Sjon Paul, has spent every night of his life with his mother.
When Schat was arrested, the boy was handed over to his father, who is restricted from leaving the Eastern Sierra.