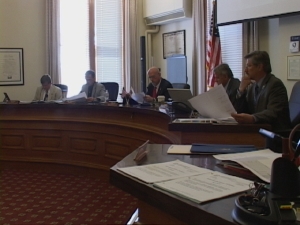 Although Mono County may not be able to afford the some $100,000 price tag, residents of Mono City have pushed for an emergency access road for their community. Today, the Supervisors planned to consider this issue.
The Board agenda says that right now access to Mono City is by a single county road. In the summer of 2004, a wildfire in Lundy Canyon spread and nearly closed off the community from its exit route. According to Mono Public Works, fire chiefs have said responding to a mutual aid call to fight fire in Mono City would "put their crews at serious risk since there is only one escape route out of the community."
Mono County did apply to BLM for permission to use land and hired planners to evaluate a site to improve a dirt road for a second access. The agenda says the plan would include crushable gates at both ends of the access. Public Works has warned citizens that the County faces "severe budget pressures and competing priorities" and can not commit to this project. The Supervisors expected to hear a presentation today.
The Board agenda also includes an item from Agricultural Commissioner Nathan Reade who has requested that when invoices are presented for a new maintenance facility that Mono County transfer Capitol Improvement funds to a Construction Fund. A letter from Commissioner Reade explains that unanticipated gas tax revenue has gone into funds in both Mono and Inyo Counties since 2010. When the funds have grown enough to cover the cost of the maintenance facility, Reade wants to be able to transfer the money to a construction fund. He wrote to the Supervisors that this new facility will replace "inadequate metal cargo containers and tents used currently by department personnel." The agenda says the fiscal impact will amount to nearly $249,000. Reade wants the Board to adopt a resolution which would authorize the transfer of funds when appropriate.
In other matters, the Board may send a letter U.S. Fish and Wildlife to oppose the listing of the Bi-State Sage Grouse as endangered. A proposed letter from the Board says a special working group is taking steps to protect the Sage Grouse and more is not needed. Their letter also says if the yellow-legged frog and Yosemite toad are listed and granted critical habitat designation, the cumulative impact of the Grouse listing could "cripple recreation and agricultural economics and severely impact the livelihood of our citizens."