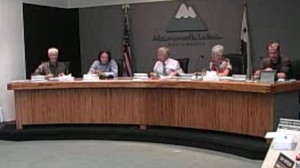 As citizens wonder aloud what the Mammoth Town Council is doing behind closed doors, five more closed sessions are scheduled for Wednesday afternoon. The subjects range from Town Manager to property negotiations.
Mayor Rick Wood said that the Council is interviewing four experienced Town Manager candidates who "are all immediately available to serve as interim Town Manager." Wood said that there are public lists of people who are available to serve as interims. He said the Council has resumes from that list. Mayor Wood added that Town Attorney Andy Morris has checked out all of them or has personal experience with some of them through his law firm.
The second closed session includes a negotiation between the Town and the Sam Walker family for possible purchase of Sam's Wood Site. Councilman Michael Raimondo wants to see acquisition of that site for events. The third closed session involves common area belonging to the Viewpoint Condos homeowners association.
Closed session number four is what Wood called the recurring discussion regarding the recycling facility land purchase in the Industrial Park. Wood said he has a conflict on this issue and has no other information. The fifth closed session deals with the ongoing litigation by former Police Sergeant Eric Hugelman. He was originally terminated, appealed and won. Issues may involve back pay.
The closed sessions were scheduled to start at 2pm. The regular meeting starts at 6pm. The only two policy items on the agenda are Code Compliance Efforts and Funding and the Mammoth Lakes Tourism Year-End Review. One of the Council members will participate in the meeting via teleconferencing from Rhode Island, according to the agenda.