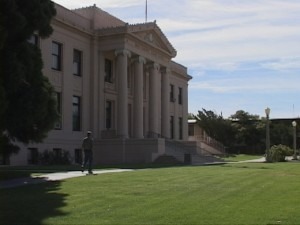 An Important Message for Inyo County Voters
he Inyo County Elections Office is excited to announce that they were one of five counties selected nationwide to participate in a pilot project to launch a new election website. ELECTricity, a program of the New Organizing Institute, has collaborated with TurboVote, the Sunlight Foundation, and the Center for Civic Design, with funding from the Democracy Fund to bring this project to Inyo County.
People are increasingly looking for civic information online. The layout of the new website will allow voters to easily find important election information and will be readable on desktop computers and mobile devices. Because the project is funded by a non-profit, it is free to the county.
Kammi Foote, Inyo County Registrar of Voters, states "Our office is committed to increasing awareness about elections and voting. By participating in this project, Inyo County residents will soon have a website where they can easily find all of the information that they need to register, vote and find election results."
The website will be live before the November Election. Inyo County citizens are encouraged to visit the site often to learn about upcoming elections, deadlines, and changes in election legislation and technology. Please contact the Inyo County Elections office at 760-878-0224 to learn more.