"From city halls to county courthouses, from the State house to the White House – bureaucrats control our lives.  Public servants who often try to become our masters.  People whose salaries we pay, but what goods and services do we get?  On Sierra Wave's Bureaucrat Beat, we'll report what they're up to."  That's the Bureaucrat Beat declaration of dissatisfaction, but as you may know, Bureaucrat Beat talks about  much more.
The real history of LADWP in the Owens Valley?  When the Bureaucrat Beat Newsroom went to work in 1975, there were still people alive who remembered LA's land and water grab.  We heard their stories.  Friday, those who go to the Natural History Museum in Los Angeles will hear some stories from several Southland types.  Aqueduct engineer William Mulholland's great-granddaughter, Christine Mulholland will speak. We met her when she came up for some celebratory speeches at the local museum.  Charming and warm person. We bonded over a cigarette outside the museum. She seemed mostly unaware of Owens Valley feelings about DWP.   Also invited to speak in LA are a USC history professor, an LA Times book editor and an actress and writer.
LADWP, the Natural History Museum and Metabolic Studio arranged for this happening which includes a screening of the film, Chinatown, and an analysis of its story.  The press release says this is in honor of the aqueduct's 100th anniversary and a chance to "help dispel some of the myths about the history of water in Los Angeles."   It's no myth that people here are still angry and afraid.
Some anger still boils in Mammoth where the Town Council and their lawyer say they can not talk openly about the departure of their Town Manager.  The suspected scenario is that they were going to dismiss her but she resigned instead.  That's over.  Now, the real question is why can't the Council keep a steady deck?  The only department head they have is the Police Chief.  So, they take this time to force out the main manager?  It raises questions of timing and sensibility for a Town government that has suffered through the ringer of bad money problems, worse money problems, lost employees, huge debt and now one more loss.  Citizens want to know – When will it end?
We in the Bureaucrat Beat Newsroom want to know when our federal government will stop spying on us!!??  They're bullying Google, Microsoft and others to give them access to our emails.  We read the other day that the Drug Enforcement Agency has bullied UPS and Fed-Ex to search packages.  We're getting uncomfortable about what some are calling "Stop and Frisk" law enforcement against citizens who are minding their own business.  Watch it!
And, on that note, according to the Truthout website, police can search your cellphone without a warrant.  Several states other than California have voted in a ban on that practice.  Governor Jerry Brown recently vetoed the proposed SB1434 which would have protected Californians against warrantless government searches based on cell phone and other electronic device information.  Police say it's a valuable crime solving tool.  Regular citizens say they might feel violated.
Lots are watching Earth, Wind & Fire.  The 70s extravaganza group that went silent for many years has resurrected.  Just performed at the Hollywood Bowl, was interviewed on CBS.  They sound pretty much the same.  It's upbeat.
Meanwhile, the LA Mayor's office is looking for a Film Czar to keep production in Hollywood and lobby for more movie tax credits in California.  That Czar can't keep film crews away from the Eastern Sierra very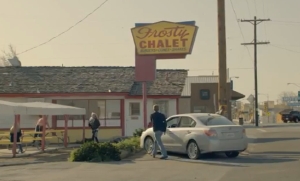 well.  After all, we've got the Sierra and the Alabama Hills and, well, the entire region that makes for spectacular movie back drops.  We also have the Frosty Chalet in Lone Pine.  Did you notice it in the current Subaru ad running on TV?  Yep.  The Frosty has re-opened and made it onto the small screen.  Unfortunately, the rest of the ad was not filmed in the gorgeous Eastern Sierra but, instead, somewhere in farmland, USA.
Back to DWP.  Seems Stan Matlick, long the protector of what's called the Bishop Cone area, left word before he died that someone should make sure DWP turns off Well 406 by the beginning of October.  Stan relentlessly monitored DWP pumping in the Bishop area.  It was his family that won the Hillside Decree in 1940.  That ruling banned DWP export of groundwater from Bishop down nearly to Big Pine.  They can pump water and use it on the Bishop area.
So, we contacted DWP about Well 406. They claim that they can't pump more than they bring onto the cone during any given year.  So, the DWP says they bring 25,000 to 30,000 acre feet of surface water per year onto the Cone and are pumping 15,000 to 16,000 acre feet.  You guessed it.  They will not turn off Well 406.  What would Stan do?  We're checking with the Inyo Water Department.  Many fear that with Bishop's Champion now gone, DWP will try to take advantage.
With that, this is Benett Kessler signing off for Bureaucrat Beat where we await your word on our lives in the Eastern Sierra and beyond.