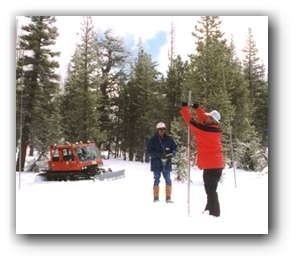 One Mammoth resident aptly pulled out a cliche about last week's snow, calling it "too little too late."  Dry years come, and hopefully they will go.  Meanwhile, lots of speculation about the impacts and the bigger picture.  For one science center, it's not about California's snow disappearing.
According to recently released research from The University of Alabama Earth System Science Center, "more than 130 years of snow data show that over time snowfall in California is neither increasing nor decreasing."  John Christy, director of the Earth System Science Center, said that the analysis of snowfall data from as far back as 1878 found no long-term trend in how much snow falls in the state, especially in the Sierra Nevada mountains.
Christy added that there is no trend over the past 50 years either.  According to a recent online article, Christy's research will be published by the American Meteorological Society's "Journal of Hydrometeorology".
Reports say that the research was prompted by concerns that snow in the Sierra Nevada had decreased in recent years, perhaps due to climate change.  This particular study does not confirm such concerns.  Years of snow data were available through records kept by the Southern Pacific Railroad and many other sources.
Mr. Christy also said that California has large year-to-year variations and that's expected to continue.  On its website, the LADWP shows snow and moisture patterns for the past 35 years.  76-77 are shown as the driest year.  2011 and 2012 have followed right along with 76-77, sometimes lower and now a bit higher.
LADWP's most current precipitation conditions are dated February 28.  Mammoth Pass Snowpack has finally inched above the driest year, now with 11.3 inches of water content.
Snow pillow readings from the mountains show Mammoth Pass at 31% of normal to date.  South Lake sits at 44%.  Big Pine Creek, 26% and Cottonwood Lakes in the south at 46%.  This week's snowfall did leave about 8 inches of new snow at higher elevations.  Water purveyors and others hope for a Miracle March, although for Mammoth Mountain Ski Area it may be too late.