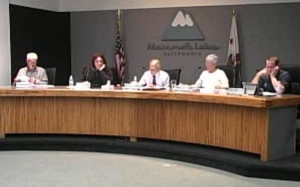 The salary for a Mammoth Town Council member equals $300 per month and has since the Town incorporated in 1984. In a report from the Town Manager and Town attorney, the officials say that staff has received "several inquiries" about the possibility of an increase in Town Council salaries. The Council will consider this tonight. This is an item discussed in town groups meeting on the issues.
According to the agenda report, Government Code caps the pay of City Councilmembers at $300 per month for towns with populations under 35,000 but does allow that amount to be increased 5% per year. Officials say the Council could adopt an ordinance that implements 29 years of 5% increases. That would raise Council salaries to $735 per month.
Other options include a ballot measure that would override the salary cap under Government Code. The other option raised would be to convert the Town from a general law town to a charter town. Charter cities are exempt from the state law that caps Council salaries. Officials call this a "complicated" option with the need to come up with a Town charter.
The least complicated and least expensive option, other than doing nothing, is to create an ordinance to raise the Council's pay.
In other items before the Council, do e-cigarettes encourage smoking? Or, do they help smokers quit? That's a current debate, but Nancy Mahannah, Mono County Health Promotion Division Manager, has asked the Town of Mammoth to include e-cigarettes in its tobacco and smoking restrictions. The Council is asked to amend Town tobacco and smoking related use and restrictions to include e-cigarettes or not.
Town Manager Dan Holler asked Police Chief Dan Watson to provide more information about the drop in crime in Mammoth last year and the trend of decreased crime over several years.
The substantial staff reduction in the Police Department, according to an earlier report, would impact DUI and traffic citations.
In 2013, the Chief noted a 27% reduction in Part One crimes, which include murder, rape, robbery, assault, burglary, larceny and vehicle theft. In 2012 there was an 11% reduction. Crime rates have gone up and down over the past ten years with a mostly downward trend since 2009.
The drop in crime in 2013 compared to the ten-year average is 46.5%. The Police Chief's report says, "The dramatic reduction and arrests are due, in part, to the decline in crime and reduction in staffing."
Traffic enforcement was at an all-time low last year. 33% fewer citations were issued in 2013. Calls for service and activity – Total incidents dropped 14%. The Chief's report says that the "total incidents reflect a greater reduction due to fewer officer initiated activities because of less staff."
Why the substantial crime decline? The Chief's report says that "crime nationwide has been declining steadily in most communities. That's part of it. Vehicles are safer and anti-DUI messaging and enforcement efforts have had a positive impact on injury collisions and DUI. And, perhaps," says the Chief, "as Mammoth Lakes matures as a community, our guests and visitors are becoming more civilized and less likely to engage in aggressive criminal behavior towards each other." The Chief says that all of these are "speculation at best, and I frankly cannot explain the dramatic reductions over the past few years except to add that perhaps good fortune is part of it."