"From city halls to county courthouses, from the State house to the White House – bureaucrats control our lives.  Public servants who often try to become our masters.  People whose salaries we pay, but what goods and services do we get?  On Sierra Wave's Bureaucrat Beat, we'll report what they're up to."  That's the Bureaucrat Beat declaration of dissatisfaction, but as you may know, Bureaucrat Beat talks about so much more.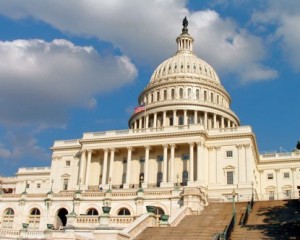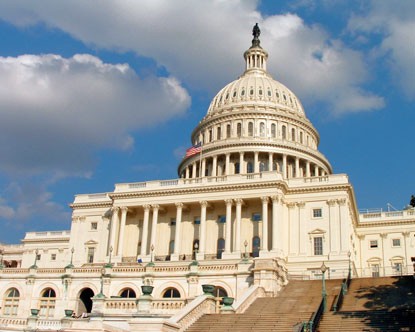 Nothing says "I don't care" like a government shutdown.  We in the Bureaucrat Beat Newsroom want someone to propose a simple appropriations bill and vote for it !!  Health care is a separate matter.  If the public could pass legislation, we could ban Congress from appearing on TV for a couple of months and get some work done.
We also want Congress to get cozy with the concept of shame.  Clearly they have no working relationship with that feeling.  Our elected officials, and perhaps ourselves, need to make the moral decision – will we provide health care or let people suffer?  It's really that simple.  Other, less fortunate nations have found a way to resolve this issue.
Mammoth's Mayor, Rick Wood, recently ran the Berlin Marathon. Wood is unstoppable.  He noted that on our government shutdown, European news outlets see the U.S. as "ridiculous", generally blaming the Republican Party.  Way to go, USA.  Said Wood, "They (the Europeans) cannot understand why  universal health care, which most countries have, can be in the way of keeping the government running."  They are not alone in their head scratching.
DWP and LA officials must feel alone.  They have actually started a project to replenish their own groundwater.  Someone down there must've lit up with an epiphany that one day they may not be able to suck everybody else dry.  After all, they have not tried hard to make friends with those at the source of Eastern Sierra water.  DWP's new plan is called the Groundwater Replenishment Project.  You can comment on it through October 21st.  According to a press release, the project "plans to use highly purified water from the Donald C. Tillman Water Reclamation Plant each year to replenish the San Fernando Groundwater Basin at existing spreading grounds and new injection wells in the San Fernando Valley."  Don't look for any Inyo-Mono Groundwater Replenishment Project.
Do watch "The Town" – the Rise and Fall of Mammoth Lakes created and produced as an online documentary by C.K. Hickey and Matt Sarnacki, students of the UC Berkley Graduate School of Journalism.  C.K. is a lifetime visitor to Mammoth and got interested in the impending bankruptcy.  The pair interview Dave McCoy about the burst of energy that became Mammoth Mountain Ski Area.  The documentary tracks a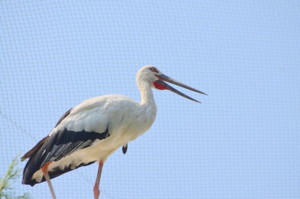 decline into turmoil when McCoy sold to Intrawest. As Mr. McCoy said, with corporations it's all about the dollars on the table.  It's a strange feeling watching some 60 years of Mammoth in one sitting.
One of our website commenters mused that maybe the government shutdown halted all the spying on American citizens.  We doubt it.  Things have gotten so crazy that birds are now being detained for their potential to eavesdrop.  Say what??!!  Yep.  According to a story in the LA Times, a stork was once detained by Egyptian authorities on suspicion of being a spy.  Holy beak, Batman.
The story says residents in Egypt found the bird had died on an island in the Nile.  Earlier, someone found the stork southeast of Cairo.  A device was reportedly found on the long-legged, winged creature.  It was a European wildlife tracker.  Police were suspicious.  Now we're so paranoid, we're afraid of storks!!!
Before the recent political theater was a farce called the Sequester – some Congressional game about senseless cuts if they couldn't make a decision.  According to Medscape, billions of dollars in research funding and thousands of health-related jobs were lost.  The National Institutes of Health lost $1.7 billion due to Congressional hijinks.  So much for cancer research.
And, it's not just the government shutdown that has Yosemite National Park in its crosshairs.  According to an LA Times article by writer Louis Sahagun who covers our area, climate change has hit Lyell Glacier in Yosemite which is the source of a great deal of water.  The article says Lyell has dropped 62% of its mass and 120 vertical feet in the last 100 years.  Geologists give it 20 more years.  But, of course, climate change is just a con, right?
With that, this is Benett Kessler signing off for Bureaucrat Beat where we await your word on our lives in the Eastern Sierra and beyond.