Press release
American Mule Museum (AMM) Kick Off Party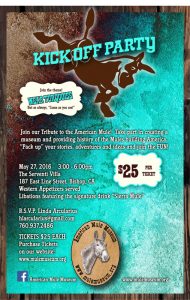 Join our Tribute to the American Mule! Take part in creating a museum and providing history of the Mules building America. "Pack up" your stories, adventures and ideas, and come join the FUN!
The American Mule Museum Kick Off Party and fundraiser will be 3 pm to 6 pm Friday, May 27th at the Serventi Villa, 187 East Line Street, Bishop CA.
Delicious Western appetizers will be served along with libations, including the signature "Sierra Mule" drink.
Enjoy music by Fiddler/Singer-Songwriter – Fiddlin' Pete Watercott.
Tickets are $25 each and may be purchased using cash or a check at KIBS/KBOV and the Bishop Chamber of Commerce. Tickets are also available on the AMM website, www.mulemuseum.org.
Tickets are limited, get yours today!