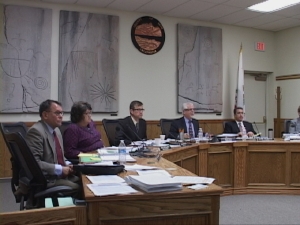 For the small areas of the Eastern Sierra, it's sometimes tough providing ambulance service. At today's Board meeting, Supervisor Matt Kingsley planned to bring up a resolution supporting Measure D on the November 4th ballot to provide funding for a parcel tax for Local Ambulance Service in Area 4 in the vicinity of Lone Pine. That area is the southern and southeastern part of Inyo.
Kingsley says that the Lone Pine Fire Department has struggled for many years to maintain local ambulance services for Area 4, which goes from Ash Creek on the south to George's Creek on the north and Death Valley National Park on the east to the trailheads on the west. Kingsley says to continue to provide ambulance service, the Fire District has submitted a parcel tax to the voters. Measure D is this parcel tax. It is a special tax and requires 2/3s of the voters' approval.
Kingsley says that without the parcel tax the Fire District has said thatlocal ambulance service in Area 4 will cease January 1, 2015. Kingsley asks that fellow-board members support the resolution for Measure D to give voters momentum to support it.
The tax rate would be $100 per year. The measure would sunset after 10 years. The measure would provide around $80,000 per year to the Fire Department.
In other Board matters, Supervisors will seek direction on Inyo-Los Angeles Standing Committee meeting agenda items. A meeting is scheduled for Wednesday at 1pm at DWP headquarters in LA.
The agenda includes a report on the dispute settlement of Blackrock 94, a report on operations and runoff, and discussion of the Owens Lake Master Project.