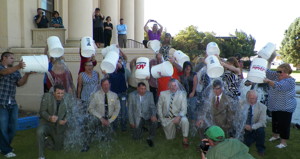 Inyo Supervisors Ice Bucket Challenge a Success
By Charles James
Last week, Fifth District Supervisor Matt Kingsley issued a challenge to his fellow supervisors at the end of the meeting to join him in the very successful, viral ALS Ice Bucket Challenge before this week's regular board meeting. All of them accepted without hesitation.
The Ice Bucket Challenge involves dumping a bucket of ice water on someone's head to promote awareness of ALS and encourage donations to research. This year the challenge went viral on social media in July and August 2014. Many celebrities and just average, regular people have now participated in the challenge.
Kingsley, choked with emotions, spoke to those gathered on the lawn in front of the Independence Courthouse as he recounted his experience with his oldest brother, Phillip, who is 71 years old and was recently diagnosed with the debilitating illness. "Phillip," says Kingsley, "has always been active. He has been farming for the last 9 years after retiring as a professor of Psychology at Bluffton College in Ohio. It is hard to watch and to know what is ahead for him."
"I understand that there are many causes and situations that need attention," said Kingsley, "but for me, the opportunity to highlight the ALS cause and the fact that my brother is suffering from ALS led me to challenge the Board of Supervisors. My motivation is really about my brother Phil."
Amyotrophic lateral sclerosis (ALS) is often referred to as "Lou Gehrig's Disease." It is a progressive neurodegenerative disease that affects nerve cells in the brain and the spinal cord. The progressive degeneration of the motor neurons in ALS eventually leads to death as the motor neurons die and the ability of the brain to initiate and control muscle movement is lost. Voluntary muscle action is progressively affected and patients in the later stages of the disease may become totally paralyzed.
Joining First District Supervisor Linda Arcularius, Second District Supervisor Jeff Griffiths, Third District Supervisor Rick Pucci, Fourth District Supervisor Mark Tillemans, and Fifth District Supervisor Matt Kingsley in the challenge were other county officials: Administrative Officer Kevin Carunchio, County Counsel Margaret Kemp-Williams, Health and Human Services Director Jean Turner, Public Works Director Clint Quilter, Sheriff Bill Lutze, Clerk-Recorder Kammi Foote, Auditor-Controller Amy Shepard, Treasurer-Tax Collector Alicia McMurtrie and Child Services Director Suzanne Rizo.
Kinglsey reported that as of noon Thursday, there has been $3,330 raised as a result of the Ice Bucket Challenge.