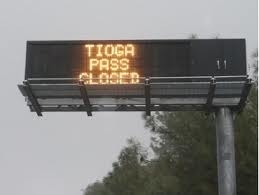 The so-called sequestration in Washington, D.C. made across the board cuts in many services because the two parties could not agree on a budget plan. Mono Supervisor Tim Alpers said that policy cut $2.4 million out of the Yosemite National Park Budget. As a result, Yosemite officials said they would not start clearing Tioga Pass from their end until May 15th. Alpers has asked the Park Superintendent for Mono County to get going from the East entrance to preserve the hope of opening the all-important pass for Memorial Day.
Alpers' request went to Yosemite Superintendent Don Neubacher. In an email communication, Alpers said, "I am respectfully requesting that our snow removal crews be allowed to enter the Park immediately and begin operations form the East entrance." Alpers said that in the past Mono County and Caltrans have been allowed to enter the Park on April 15th and plow to Ohlmstead Point.
Supervisor Alpers told Neubacher that "Our economy in Mono County is in bad shape like everywhere else and a late opening of the Tioga Road would be a major setback to our short summer economy." Last week the Mono Supervisors did approve a cooperative agreement with Yosemite to plow Tioga Road. Superintendent Neubacher replied to Alpers that Park surveillance crews were on the road yesterday. He expected information by today. Neubacher said, "We know the urgency. Lack of snow is working in our favor."
We placed a call to Superintendent Neubacher. Public Information Officer Scott Gediman returned our call and said crews planned to go to Ohlmstead Point Monday. Gediman said officials are discussing plans for Caltrans and Mono County to plow to Ohlmstead. He said snow is not the issue but avalanche concerns are. He expected more news later this week.