A Mammoth Lakes day care provider for more than 20 years, Lupe Almaguer now sits in the Mono County Jail awaiting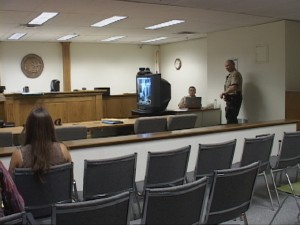 court hearings. He has pled not guilty to two counts of Lewd and Lascivious Acts with a Child under 14. Wednesday, he appeared in Mammoth Court via video conferencing on a large television set next to the judge's bench.
Almaguer wore striped jail garb and sat in a single chair silently to wait for court proceedings to start. Inyo Judge Dean Stout was assigned to hear the case. Mono Judge Stan Eller had recused himself from this case. Judge Stout said it was his understanding that Almaguer had requested video conferencing. Asked by the Judge if he agreed to a video appearance, Almaguer said, "Yes, your honor."
Judge Stout determined that the hearing yesterday would be continued. He then wanted it clarified that Almaguer had waived his 10 court day and 60 calendar day time frames for a pre-liminary hearing. Almaguer made it clear he had waived those time limits.
Judge Stout stated Almaguer's right to an attorney and to a speedy and public preliminary hearing. He also told the man that he has a right to remain silent. "You can't be compelled to testify," said the Judge. "And, silence is not to be used against you." Judge Stout finally said that Almaguer's status conference and setting of a preliminary hearing would be continued for 30 days and set for November 17th in Mammoth Court at 1:30. Judge Stout said that Almaguer must personally appear at that hearing.
The Judge said he would let Almaguer's $500,000 bail stand. Judge Stout asked the defendant to sign forms waiving time frames for hearings. The audience could see Almaguer signing the document and a corrections officer taking it from him.
Judge Stout said that he would issue a criminal protection order and bail order that the defendant not contact directly or indirectly by any means the alleged victims in the case. He listed contacts in person, a third party, by phone, text, email, U.S. mail or any other form of communication.
The judge's order also said that Almaguer should remain 100 yards from the alleged victims, their residence, day care or schools. Judge Stout said Almaguer could not be in possession of firearms. He also made it clear that Almaguer should stay away from all minor children and places where they might be without prior permission of the Mono Probation Department.
Almaguer's assigned public defender, Dave Hammond, said it was not likely his client would make bail that is set at half a million dollars. Judge Stout asked the defendant if he understood that his orders are in effect even while the defendant is in jail. Almaguer answered yes.
The investigation in this case continues, and District Attorney Investigator Wade McCammond has asked that anyone with information about the case should call him at 760-932-5553.