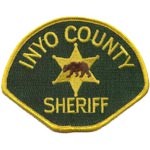 What began on August 11th as a report to the Inyo Sheriff's office  of a woman with abrasions and lacerations turned into an investigation of a possible sexual assault and beating in the Bishop area.  The District Attorney's investigation has cleared the Inyo Sheriff's deputy with whom the victim was living.
The somewhat complex case started with an officer responding to a woman's call for help.  Sheriff Bill Lutze pointed out that his department is the initial responding agency for any reported crime in the county area.  Officers said that the woman involved initially told them she did not believe the deputy she was living with was involved in her assault.  That story later changed, and Sheriff Lutze determined that he would turn the investigation over to the District Attorney to avoid conflict.
The alleged victim told Sierra Wave that she felt "left out of the loop" on the investigation.  She claims that investigators tried to prove she had earlier had consensual sex and was not raped.  She firmly denied that and alleges she was attacked after someone knocked her out. The victim told us she felt investigators were trying to make her the "bad guy".  It was the "good ole boy phenomenon in Bishop," she said.
Sheriff Lutze said that the woman was taken to Northern Inyo Hospital where a rape kit was performed and photos of her injuries documented. The Sheriff said that the kit was sent to the Department of Justice Lab for analysis. Lieutenant Jeff Hollowell said that DNA testing will be performed by DOJ.
Officers said the deputy living with the victim was not home when she called the Sheriff"s office but returned to find the woman drunk, called another deputy and left the residence.  The victim said the deputy she was living with claimed she was "drunk and popping pills and had hurt herself."  She denied that and also said that the "assistant DA agreed that her injuries did not look self-inflicted."
Sheriff Lutze said that the investigation of this incident by the District Attorney's office is complete and cleared the deputy associated with this case of any wrongdoing.  Sheriff Lutze said the case is still open for results from the DOJ and whether they can find a match.  There is apparently no suspect at this time and no charges have been filed against anyone.