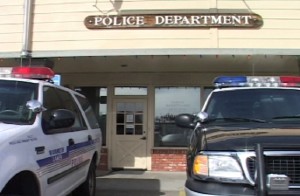 UPDATE: Press Release from MLPD –
Victim in Mammoth Lakes 'Bonged' on the Head
On Sunday November 24th at about 5:30 pm, Mammoth Lakes Police Officers and Mono County Paramedics responded to 362 Old Mammoth Rd for a report of a physical fight, one of the suspects was armed with a knife and someone had been cut.  Upon arrival, officers contacted the victim, who was bleeding from wounds to his face.  The victim told officers that during a heated argument with his roommate, Cole Martin, Martin allegedly brandished a knife and moved toward the victim.   The victim retreated behind a table and flipped it up toward Martin.  The victim said Martin tossed the knife, and grabbed a glass marijuana smoking 'bong' from a nearby table.   He said Martin then broke the bong and used it as a weapon, cutting the victim's lips.  Martin left the scene prior to officers' arrival.  The victim refused treatment.
MLPD Officers telephoned Martin on his cell phone and requested that he come to the Mammoth Lakes Police station to be interviewed.  After the interview, Officers arrested Cole William MARTIN, 20, of Mammoth Lakes for 245(a)(1) PC, Assault With a Deadly Weapon.  He was transported to the Mono County jail and is currently being held on $30,000 bail.
Officers responded to the same residence a total of three times that evening. On the third response, Officers heard a subject yelling and throwing objects inside.  They were let inside by a roommate who told them the victim from the prior call was destroying the residence and was "..out of control".  Other roommates at that location told officers that the victim was pounding on their door with a skateboard and had kicked a door off the hinges. They said he was convinced Martin was still in the residence, although he had already been taken to jail.  Mammoth Lakes Police officers ultimately arrested the victim from the prior call, Conner MORRIS, 19, of Mammoth Lakes. for 11550 H&S, Being Under the Influence of a Controlled Substance.  After being treated at Mammoth Hospital, he was also booked into the Mono County jail and later released on his own recognizance with a notice to appear.
(Sierra Wave earlier story)
According to Mammoth Police, on Sunday, Nov 24 at approximately 6:30 pm, Cole Martin, age 20, and his roommate, Connor Morris, age 19, got into a verbal argument in their residence on Old Mammoth Road. The argument escalated and Martin took a swing at Morris while holding a broken glass bong resulting in Morris receiving a cut lip.
Morris fled to his room and Martin fled the scene. MLPD officers responded and obtained information from Morris. Martin was contacted via his cell phone and he voluntarily responded to the police station where he was arrested for Assault with a Deadly Weapon.
Meanwhile, Morris began damaging his residence resulting in additional calls from another roommate. Morris was subsequently arrested for being Under the Influence of a Controlled Substance.
Both Martin and Morris were transported to Mono County Jail and booked.