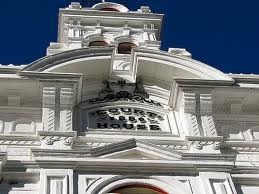 Lee Vining attorney Katie Bellomo represented fired County mechanic Dick Luman in a termination appeal. Two out of three Personnel Appeal Baord members upheld Luman's firing based on what they said was a threat he made to his supervisor, Brett McCurry, who was also fired for physically fighting with Luman.
After weeks of testimony, the Appeals Board majority admitted that the County failed to show Luman engaged in mutual fighting and that the County should have acted sooner to address Brett McCurry's "inappropriate conduct in the workplace." But the two Appeal Board members declined to reinstate Luman because, they said, he threatened McCurry.
The alleged threat was reportedly in response to McCurry having called Luman a vulgar name behind his back. Attorney Bellomo said what her client told McCurry was that if he said the name to his face he would "probably be falling down his stairs again" – referring to an in-house joke about McCurry allegedly being drunk and falling down some stairs. Bellomo said this was not a threat.
Supervisor Tim Hansen, who also sat on the Appeal Board agreed. He filed a dissenting finding. His statement says, "The personnel board based their findings solely on the alleged threat against Mr. McCurry. Two of the four persons in the room said that they thought it was a threat and two did not." Hansen's dissent pointed to conflicting testimony. He said some employees affirmed that it was a "longstanding joke in the workplace" that McCurry had been drunk and fallen down some stairs.
Hansen's statement says, "To use this alleged threat as a reason to prove Mr. Luman engaged in conduct justifying termination does not come close to meeting the burden of proof." Hansen said discipline other than firing could have been applied in this case.
In an open letter to the Board of Supervisors and the public, Katie Bellomo lays out her thoughts about what she calls "a depressing display of corrupt government." Go to our website to read the entire letter.
The last paragraph of her letter says she received a bouquet of flowers at the end of Luman's hearing with a note signed as "Demoralized and (not so) intimidated employees of Mono County." The note, she said, reads, "We agree that the County has been managing through intimidation and arrogance, and we are hopeful that with the three new County Supervisors we will see improved employee relations and working conditions."