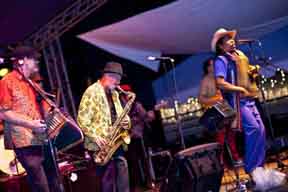 Get ready to get your jazz on.
Mammoth Jazz comes our way in Mammoth Lakes July 11-15, 2012, and it's shaping up to be epic, with old favorites, new favorites, and nonstop jazz in the great outdoors.
Temple of Folly with Yve Evans, her powerhouse of voice and piano; Tom Rigney; Tom Hook; Sue Palmer and her Motel Swing Orchestra; those groovy Rhumba Bums and Steve Lucky; Jennifer Leitham and her bass; Scott Martin and his Latin Soul Band, Gator Beat, and so many more. High Street is trying to get here, too.
Time has passed for the $95 badges, but now they're going for $105 until May 31. That's $21 a day. What a value.
The All Jubilee Badge gets you into all the venues for each of the five days, where you can be a hep cat, dance, eat, drink and soak up the music.
June 1 badge prices go up to $120 for a month and then it's full price, $140 as of July 1 and at the gate.
All information—on badges, the bands, venues and logistics—are at the website, www.mammothjazz.org. Check for updates on Facebook, too, and Like Mammoth Jazz.
Join Flossie and Ken Coulter for the 24th Mammoth Jazz. To volunteer, be a sponsor, become a "Noteable," or seek more information, call 760-934-2478.