– Press release from the BLM
The Bureau of Land Management will host interpretive hikes in the Alabama Hills this December to discuss film history and view scenic arches as a part of our 'Discover the Desert' initiative.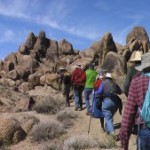 Discover the Desert focuses on connecting people with spectacular places and resources in the California desert by working with gateway communities and partners to identify opportunities for education and interpretation through the arts, sciences, tourism and recreation.
A "Film History in the Alabama Hills" hike will be held Saturday, Dec. 27 and an "Explore the Arches" hike will be held Sunday, Dec. 28. Participants should meet at 10 a.m. at the Eastern Sierra Interagency Visitor Center, at the corner of Highway 395 and State Route 136 in Lone Pine, to carpool to the site. The driving time is about 10 minutes. Each hiker should carry at least one quart of water and dress in layered clothing for a range of temperatures and windy conditions.
"There have been more than 400 movies and countless commercials filmed in the AlabamaHills. On the film history hike, you will hear interesting and amusing stories about numerous productions as you explore the camera locations. This walk covers an area of Movie Flat that includes locations from memorable films such as "Gunga Din," "Bad Day at Black Rock," "Tremors" and "Django Unchained,'" said Dave Kirk, Alabama Hills steward for the BLM's Bishop Field Office.
The film history hike will take 1 to 1½ hours and is a relatively easy walk covering less than a mile.
"On the arches hike, you can learn about the geologic processes that shaped the hills. The hike includes Mobius, Heart, and Eye of the Alabama arches. You'll also discover that there's more to the Alabama Hills than just Movie Flat! The hikeincludes scenic vistas of the Sierra, Inyo Mountains and Owens Lake, plus a visit to a riparian zone in the heart of the hills," Kirk said. The arches hike will take 2 ½ to three hours and requires a good fitness level. The hike is a loop about 3.5 miles in distance with some moderately strenuous sections. The entire hike is on trail and/or multi-use routes. Appropriate footwear is required.
The Bureau of Land Management in California manages 11 million acres of unique and diverse desert landscapes rich with recreational, environmental, cultural, historical and archaeological resources. For more information on opportunities to 'Discover the Desert' throughout California, please visit our website athttp://www.blm.gov/ca/st/en/fo/cdd/DiscovertheDesert/about.html.
For more information on interpretative hikes in the Alabama Hills, contact Dave Kirk at(760) 920-1412 or via email at [email protected], or the Eastern Sierra Interagency Visitor Center at (760) 876-6222.