Alfred "Al" Hadeler 1922-2017
Born January 23, 1922, Alfred Frank Hadeler passed away early Tuesday, August 29, 2017, on the wings of the morning at his home.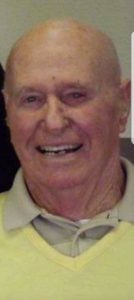 He is survived by his beloved wife, Lilla, of 73 years along with daughters Roberta Katherine "Kathie" Billingsley, Sarah Jane Reed, and son Robin Philip Hadeler (Charma), numerous grandchildren, great grandchildren, and great-great grandchildren.
Born in Arbor, New Jersey, he was the son of Adolf and Mary Hadeler and was brought up during the depression which instilled a deep and strong work ethic that he carried through life. During his high school years he was a talented athlete, lettering in three sports and earning a college scholarship in football. Because of hard times, he did not go to college, but stayed home to work and help his family. Also, during this time, he played semi-professional baseball and sang professionally.
On December 22, 1942, Al enlisted in the army. It was while stationed at Santa Anita, California, he met the love of his life, Lilla Jane Rendell, and they were married a short time later on December 18, 1943. While at Santa Anita he performed the duties of a cadre, teaching other GIs the ins and outs of dealing with ammunition.
He was soon shipped out to India, where he served in a large ammunition depot for seventeen months. Following his discharge from the Army in New Jersey he moved to Crowley Lake, California, with his wife Lilla, his father Adolf, and two small children, Kathie and Robin.
In the summer of 1948, after traveling across the United States, he began building the first home on Hilton Creek with the help of Lilla and Adolf. The first section of the house was completed that year and then the remainder of the house was added on at a later date.
After working at Union Carbide Mine at Pine Creek and making pumice bricks at a facility near Crowley Lake he went to work for what is now CalTrans, where he began as a laborer and retired 31 years later as the Foreman at McGee Creek Maintenance Station.
Following both he and Lillas' retirement in 1980 they sold the house at Hilton Creek and moved to Bishop, where he has resided since. After the move to Bishop, they traveled around the western states, making friends and playing golf where and when they could. It was also during this time that he became known as "Ant Egg Al" because of his use of "ant eggs" for bait. He showed many how to gather the "eggs" and how to fish with them and was always willing to share his knowledge. Al was interviewed by Jim Matthews of Sports Afield Magazine for an article about using "ant eggs", and about his life in the Sierras. The interview spanned a full day of fishing, much to the delight of both parties.
Al was an avid hunter and fisherman and some of his favorite times were hunting ducks and geese and fishing with his children. He loved the Sierra back country and almost every weekend during the summer would find him hiking in and fishing a back country lake.
Another of Als favorite things was his garden. He was proud of his ability to grow vegetables and was known for his tomatoes. He won numerous awards at the local Tri-County Fair with various vegetables and at one time he was growing over 200 tomato plants. He sold these tomatoes and the proceeds went to the mission programs at the First Presbyterian Church in Bishop and other charitable organizations locally.
He was a long time member of the Presbyterian Church, both in Long Valley and in Bishop. He was instrumental in the planning and construction of the Little Green Church in Long Valley and placed the glass bricks that form a cross in the front of the church. He sang many solos, sometimes every week and directed the choir for many years. Als beautiful singing voice could always be heard throughout the church and will live on in the memories of many.
Al loved to visit and tell stories about his life. Stories of his youth and many stories of life at Hilton Creek; the trials and tribulations of homesteading in the mountains, and of partaking not only of the beauty, but also of all the area offered in hunting and fishing.
Following his death, a statement made about Al was: "He was always bigger than life – there was no snow too deep or storm too big". That was how he lived his life: strength, power and the ability to "bull my way through" life's challenges.
Husband, dad, grandpa, great grandpa, great-great grandpa – you are loved and will be greatly missed. We love you!
A memorial service/celebration of life will be held September 25, 2017, at the First Presbyterian Church in Bishop at 10:30 a.m. A light lunch will follow.