At year's end, the two major airports of the Eastern Sierra worked on change. In Inyo County, officials continued to negotiate with LADWP over new lease considerations for Bishop Airport.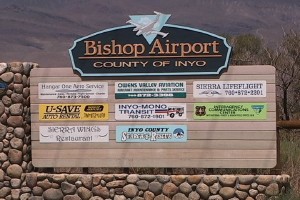 Inyo has tried to gain a longer lease with other changes for some time now. In the distant past, the airport lease was viewed as a lever to gain other concessions from Inyo by DWP.
Current negotiations remain secret as Inyo tries to work things out. Other lease matters were hanging fire at the end of the year, for local business owners, as the LADWP Commission draws out establishing new procedures for handling Owens Valley leases. Local officials say they are beginning to hear complaints.
In Mammoth Lakes, there is more forward motion. Earlier this month, the Federal Aviation Administration held the first public workshop on the draft environmental document on air service at Mammoth Airport.
This document is posted on the Town of Mammoth website and available at the Town Offices. A second workshop with the FAA will take place January 8th. The comment period closes January 11th.
The new plan includes air flights from Los Angeles to Mammoth Lakes that would start in a year. Horizon Air would provide this service. Their planes would hold around 70 passengers.
The FAA had determined that this service would not create negative impacts.