Even as Mammoth Lakes moves ahead with a plan for winter air service, Bishop Airport lingers with lease issues. In the search for air service, Bishop Airport emerged as a favored facility, considering weather and risks, but Mammoth Lakes forces have managed to move faster.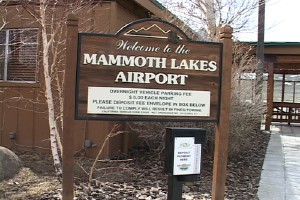 Inyo Public Works Director Ron Chegwidden said that a recent closed session with the Supervisors dealt with ongoing negotiations with DWP over the airport lease. Chegwidden declined to say much about those talks. He did confirm that the County does need a longer-term lease to take advantage of Federal Aviation Administration funds.
Officials have talked about development at Bishop Airport that would include commercial-industrial uses, as well as air service. In the past, DWP officials in Los Angeles have refused to work with Inyo to allow the County to expand or even improve facilities.
Meanwhile, the FAA's EIS on air service at Mammoth Airport is out, as we reported. It is posted on the Town of Mammoth website. An informational workshop on the Draft EIS is scheduled for December 18th. Horizon Air has offered to provide air service between Los Angeles and Mammoth Lakes during ski season, starting next year.