For decades Inyo County officials tried to get the Los Angeles Department of Water and Power to grant a long term lease on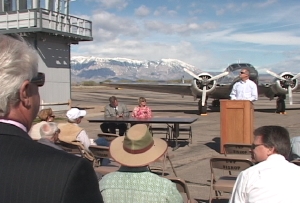 Bishop Airport so the County could use FAA funds to develop aviation. Finally, LA did okay an easement in perpetuity on 608 acres of the airport. Inyo officials were so impressed, they planned a reception to publicly announce the easement. Everybody showed up except DWP's new General Manager.
The folding chairs were lined up, Inyo Supervisors, the Administrator, Bishop officials and many others waited around congratulating each other over what should have been a routine request. Over the years, DWP officials used the airport easement as a bargaining chip for more water.
Finally, last June the LA City Council voted to support the easement in perpetuity. Inyo officials called it "historic." DWP's General Manager Ron Nichols called his visit off when high winds came up. Officials at the airport Monday morning said the DWP helicopter couldn't get off the ground.
The ceremony did, without Nichols. Inyo CAO Kevin Carunchio spoke, DWP Manager Gene Coufal stood in for the top guy and Supervisor Chair Susan Cash spoke.
Now, Inyo can apply for FAA grants for airport improvements and move on with development of aviation – one of the few possibilities for development in a mostly City of Los Angeles-owned county.