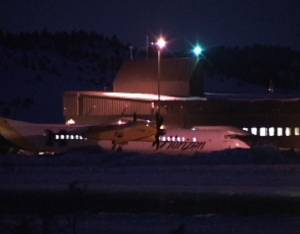 Last week, a group from Mammoth Lakes went to the Bay Area to meet with Federal Aviation Administration officials. Mammoth Public Works Director Ray Jarvis said the FAA wants a more in-depth forecast for the Airport future, wants the Town to focus on one type of designation and wants very specific details about plans for a new terminal building.
With Jarvis at that FAA meeting were Assistant Airport and Transportation Director, Brian Picken, Planner Jen Daugherty, Tourism Director John Urdi and from Mammoth Mountain – Pam Murphy and Howard Pickett. Jarvis said the tone was "very positive. We wanted a face to face meeting. The FAA is interested in our airport and wants us to be successful," he said.
Jarvis explained that the Town does have a lot of historical data on the airport now, and the FAA wants that used to come up with a clear aviation forecast that would determine the actual size of a new terminal.
The other issue is what is called the Airport Reference Code – either B3 or C3. Jarvis said Mammoth provided the FAA with options to address both designations. He said the FAA wants them to focus on one. Jarvis said to move the Airport Layout Plan along, he heard the FAA say they want the Town to approach a B3 designation with C3 as a future goal. These designations relate to airplane speeds and wing spans. Jarvis said there are planes landing at the airport now which are considered C3, but he said that's acceptable. He said the airlines that use the airport now do not need a C3 designation.
The new terminal would accommodate more flights and more passengers at once. Jarvis said the FAA wants Mammoth to "pin down a 5 to 10 year range of plans." He said the FAA also wants the Town to "be thoughtful going forward and be as specific as we can." Jarvis said he asked the FAA officials for the best way to achieve what Mammoth wants – more flights and passengers. He said they pointed to the aviation forecast. Jarvis said, "To the extent they are going to give us money for a new terminal, they want to make sure its the right size."
Asked if there are any over-arching problems with Mammoth Yosemite Airport, Jarvis said the FAA visited last year and were "very supportive of what we are trying to achieve." He said the lack of separation between the runway and taxiway is difficult to solve. Said Jarivs, "We would have to move Doe Ridge or Highway 395." That won't happen, he said, so there are modifications of operation standards.
Jarvis said that the FAA officials do understand the economic development aspect of the airport. The Tourism Director and Ski Area representatives helped to underscore that point.
In a Town press release, Jarvis had said it is expected that the Town will have a conditionally approved Airport Layout Plan this summer.