In the 80s and early 90s, we actually had the chance to use air service to fly in and out of the Eastern Sierra. Then, mostly for economic reasons, the flights ended. For the past five or more years, the debate has raged over plans for air service at Mammoth Airport. In November, a draft environmental document will go public on an air service plan.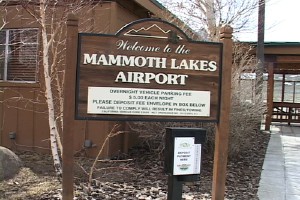 Mammoth Town Manager Rob Clark said that the Air Service Environmental Impact Statement will go public, via the FAA, November 23rd.
In mid-December a workshop will set the stage for public questions and then a formal public hearing January 9th.
The project now in the works involves regional aircraft of 70 to 80 passenger planes and two flights between Los Angeles and Mammoth Lakes.
Clark explained that the plans would use existing facilities at the airport.
Meanwhile, charter service is still a possibility for this winter. A company called Vision Holiday Air Charter will soon decide on plans to serve Mammoth Lakes. Vision flies charters in the summer mostly to the Grand Canyon.
Manager Clark and others have met with Vision Air officials, offered facilities and services through Hot Creek Aviation. Now, it's up to Vision Air to decide. If the deal takes shape, flights would be available in 30-passenger planes between Mammoth Lakes and Las Vegas, Long Beach and Carlsbad.