While State Lands Commission officials threw verbal darts at LADWP yesterday, Air Pollution Control District Director Ted Schade tried to remind irritable officials that the point of the work at the Owens Dry Lake is clean air.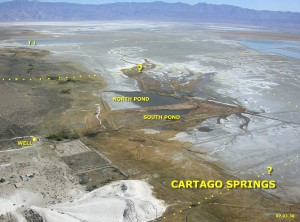 As we reported yesterday, a meeting of the State Lands Commission in Los Angeles turned angry when a governor's appointee accused DWP of failure to deal with environmental concerns over an experimental way to clean up dry lake dust called moat and row – high rows of dirt. The State officials said they are bound to uphold natural visuals, not squares of dirt, for the state's public.
Schade said that he told officials clean air is the most important public trust value at the lake. He said he chastised everyone to move on. "I'm not willing to let our air quality suffer," said Schade.
The Air Pollution Control Director explained that the District and the Air Resources Board okayed the moat and row method of controlling dust. If it doesn't work, DWP will have to do something else on 3.5 square miles of project.
But when DWP asked State Lands for an amended lease at the lake bed for the new project, the sparks flew. Inyo Supervisor Linda Arcularius, who said she is from a ranching family, testified that it would be prudent to use moat and row and less water. So did rancher Tom Noland and Agricultural Commissioner George Milovich. DWP has historically leaned on ranch lessees to support their positions.
Chairman of the State Lands Commission, Lt. Governor John Garamendi, advised everyone to work out their differences and come back in October. Garamendi,apparently concerned by the statewide drought, went so far as to say he wants to see no additional water used on the Owens Dry Lake.