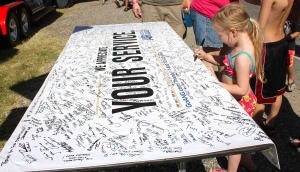 The Air National Guard, which earlier carried out disaster exercises in Mammoth Lakes, returns this week for a much more benign event.  The Guard will display their "traveling interactive campaign" at Mammoth Mountain.
According to Air Force Master Sergeant Andrew Stearns, everyone is invited to stop by Friday and Saturday to check out and sign the "Thank You" banner which will be sent to deployed Air National Guard men and women overseas.
Master Sergeant Stearns provided information that says the Air Guard is in the midst of a Winter Tour to educate people on the Guard's role in service to local communities and the country.  A news release on the event in Mammoth says that the Winter Tour is a "technologically driven experience that provides the public an opportunity to participate in simulated missions designed to demonstrate the real-life roles of Air Guard men and women."
Opportunities to join the Guard will be made available too.  The Tour, which is traveling the western United States through winter, features a series of interactive games that are designed to highlight a skill associated with an Air Guard career field.
After participants test their "electronic, mechanical, observational and spatial aptitudes", they can go online for more at GoAng.com/games.