While they may generally support the military, Inyo County citizens have complained loudly through the years about military jets that fly too low and break the sound barrier over their towns. The Air Force, aware of past problems, sent one of their own to the Inyo Supervisors meeting to make friends.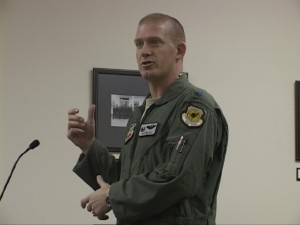 Lt. Colonel Red Walker charmed some of the supervisors and shared the inside scoop on what Nellis Air Force Base is up to in the air space above Inyo known as R-2508. Walker explained that Inyo practically doubles for Afghanistan. Pilots headed there will get a valuable experience here.
Plus, ground parties will operate radios to communicate with the pilots. Lt. Colonel Walker said that most of the pilots fly above Lone Pine but not below 5,000 feet. He said most stay at 18,000 feet. Walker made it clear he wants to know about noise complaints. He said he will investigate and make changes. Walker offered a memorandum of understanding to help with ongoing communication.
Supervisor Linda Arcularius had no interest in that or in public concerns. "When I get calls," she said, "I tell them to talk to someone else." She told Walker he is doing what he needs to do.
Supervisor Marty Fortney said he had seen military jets hit the top of trees at Aberdeen, but he won't report it. Supervisor Susan Cash thanked Walker for coordinating with local law enforcement.
Lt. Colonel Walker did leave phone numbers with us in case of community concerns.