Two parolees with methamphetamine and a mobile drug sales operation sped through Independence last week at 100 miles per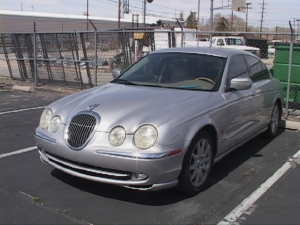 hour, according to Inyo narcotics agents. The pair ended up in the Inyo County Jail.
According to Inyo Narcotics Enforcement Team Commander Kelvin Johnston, last week a CHP officer saw a silver Jaguar sedan traveling over 100 mph northbound on 395 near Manzanar. The officer finally caught up with the Jag north of Fort Independence. He stopped them.
The CHP officer found that the driver, Victoria Wood, had a
suspended driver's license and was a parolee wanted on a felony warrant. The warrant said she could be armed and dangerous. According to INET, Wood had been convicted and served time in prison for attempted
murder, kidnapping and torture.
Commander Johnston said a search of the Jaguar, which beloned to the passenger, Joseph Navetta, also a parolee, revealed over 6 1/2 ounces of methamphetamine along with a mobile drug sales operation.
Wood and Navetta were arrested for transportation, possession and possession for sales of a controlled substance. Officers booked Wood into the Inyo County Jail with a no bail hold and Navetta's bail was set at $250,000. INET continues to investigate this case.