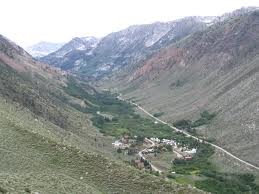 As the weather heats up and water pours down Bishop Creek drainage, officials from water and power agencies continue to meet and negotiate over a plan that will keep the creek and the lakes from running dry at summer's end.
That's what happened last year, and as a result several domestic wells went dry in West Bishop. Current President of Bishop Creek Water Association, Steve Stevens, confirmed that he has met recently with officials from the Department of Water and Power, Edison, the tribes and DWP lessees. The hope was to have some kind of agreement this week to hold water back and regulate the downhill flow from Lake Sabrina and South Lake – to the benefit of the lakes and water users below.
Reports indicate that DWP and Edison have informally agreed to do this kind of water management more than a dozen times before with no problem. Last year, with successive droughts, DWP did not go along with prolonged release of water. LA officials have cited the Chandler court decree from the 20s that regulates Bishop Creek flows. Mr. Stevens said he would hold an emergency meeting this week to get the okay for managed flows from members of the Bishop Creek Water Association, which also includes DWP.
Meanwhile, releases of water from the upper lakes have reached a reported 100 cfs. Arriving on now long-dry ditches below, some flooding has occurred, according to Stevens. The hard-packed soil, he said, is not absorbing the water. He said the Water Association is doing the best job they can but remains open to suggestion. He encouraged members to call him at 873-4847.
Debbie Hess of Southern California Edison said that if a majority of the parties to the Chandler Decree would agree to reduced flows through the summer, "we would honor it." Hess said the parties include the Bishop Creek Water Association members and the LADWP.
Hess said in the recent meeting referred to by Mr. Stevens, she said that Edison would agree to a managed flow if agreement from others is put in writing. Hess said this has been the consistent position of Edison.