News release
On August 02, 2018, at approximately 12:50 pm, Mono County Sheriff's Office (MCSO) Search and Rescue (SAR) received a call from a solo climber who stated that his legs were pinched under a rock, and he was unable to free himself. He had cell phone service and a SPOT device which were both used for an accurate location.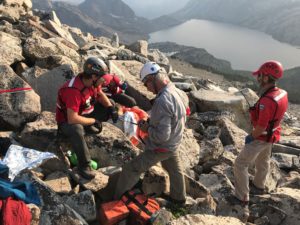 Nine (9) SAR personnel responded and readied at the Duck Lake trailhead, and the SAR Team then began the hike into the area to assist the injured person. CHP Helicopter H40 was requested to the area to conduct an aerial search of the area as well. H40 was able to see the injured party below and was able to safely land while SAR members made their way to the injured party.
Due to the unknown size of the rock, and the equipment needed, Naval Air Station Lemoore was requested to insert any additional equipment or personnel needed. H40 flew one SAR member, and one Mammoth Lakes Fire firefighter in with additional equipment.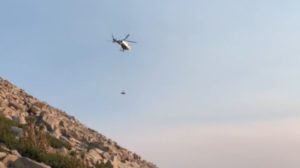 At approximately 5:25 pm, SAR members made contact with the injured party who had both legs pinned between two large granite slabs. SAR teams continued treating the victim and began the task of rigging and attaching several rope systems to move the estimated 4,000 pound slab rock off the victim's legs.
SAR personnel constructed two (2) separate mechanical advantage rope systems to manipulate the slab rock. The team was able to successfully remove the slab rock using a 9:1 and 5:1 mechanical advantage.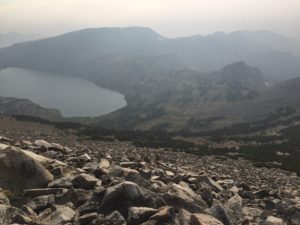 NAS Lemoore also arrived on scene, was able to assist with additional equipment and their flight paramedic. The injured party was flown out of the backcountry to rendezvous with Mono County Paramedics at the Mammoth Lakes Airport.
MCSO SAR would like to extend a thank you to all the cooperating agencies including CHP H40, CalOES, NAS Lemoore, and Medic 3.