Press release
An aerial arts community is blossoming in Bishop CA. Wakeful Ascent Aerial Arts, founded and run by Santa Cruz transplant Sara Kaiser, took off from within the Sierra Shanti yoga studio in June 2018.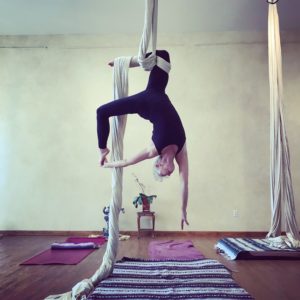 After drilling four anchors into the roof infrastructure and rigging fabric—aerial silks—from ceiling to floor, the yoga studio, run by Meredith Jabis, was transformed into an official combined yoga, dance, and aerial arts space, the first of its kind in the Eastern Sierra.
Aerial silks originated as a circus discipline merely 31 years ago. The apparatus, often confused for curtains, is usually made of polyester or nylon—not silk. This versatile activity can be practiced as a form of exercise, art, and/or performance, and is slowly but surely becoming more familiar to those outside the circus community.
Wakeful Ascent Aerial Arts is honored to contribute to that emerging awareness.
Since its launch, Wakeful Ascent Aerial Arts has also begun holding classes in Bishop CrossFit on Willow Street and held performances at Sage to Summit for the Chocolate Art Walk.
"The company's foundations were all built within the beautiful and inspiring Sierra Shanti studio," Sara Kaiser said. "Now, in addition to continuing our training there, we're integrating into more community spaces, which is very exciting."
In terms of aerial logistics, every space has something different to offer. Sierra Shanti offers the most anchors to hang apparatuses. CrossFit has high ceilings, which allows for more advanced drops. The Sage to Summit climbing gym has permanent padding on the floors, which means setup and breakdown procedures are simpler.
"In addition to supporting our development as aerialists, branching out enables us to reach wider and more diverse audiences," Kaiser said. "I want everyone in Bishop to know that the opportunity to train and spectate aerial arts has arrived. A high percentage of the students report that they've been wanting to try aerial arts for a long time, but they never had the opportunity. It means a lot to me to share something I love so much with people who are so enthusiastic. Most of Bishop doesn't know this, but this town now has an incredibly talented group of budding aerialists."
The journey has not been without its challenges, but Wakeful Ascent Aerial Arts is steadily growing, with graduates from Level 0, 1, and 2 consistently training together. On October 25th, a showcase featuring three original performances took place at the Sierra Shanti yoga studio.
The first act, choreographed by Kaiser with dance choreography by Gigi De Jong, was performed by five intermediate aerial students. The second act was performed by local aerialist Caitlin Wellwood, with the third by Kaiser. The event, a first for the region, will be repeated on November 29th at 8pm and will be open to the public.
"It was such a pleasure to share what we've been working on with the community. The moment that we all linked hands and bowed for the audience was one of the most meaningful experiences of my life," Kaiser said. "Shaping what was once wisps of an idea into a hard reality and watching everyone learn so much and be so supportive of one another has been extremely rewarding. Many of the students and their families have directly supported this endeavor with donations and by providing equipment. Without their generosity we could not have done any of this."
Wakeful Ascent Aerial Arts runs monthly courses for adult beginning to advanced levels at Sierra Shanti.
"We're off to a great start and we've got many schemes ahead," Kaiser said. "Look out for more creative, bold, and beautiful performances! If you have a space you would like to offer for performances, please get in touch."
Contact: [email protected]
Learn more at www.patternshift.co/wakeful-ascent-aerial-arts.html
Donate: Facebook