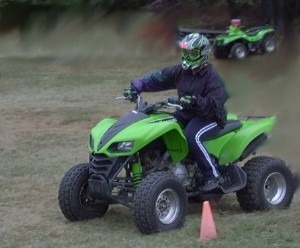 On Friday, Inyo County lawyers and attorneys that represent environmental groups will conduct a phone conference to see where things stand with the Adventure Trails pilot program for Off-Highway Vehicles. In June, The Center for Biological Diversity and Public Employees for Environmental Responsibility sued Inyo County. The lawsuit alleges that Inyo failed to adequately consider the environment in approval of going forward with the project.
The program, spear-headed by Dick Noles of Bishop and others, would allow licensed drivers of Off-Highway Vehicles to travel ten miles onto county roads to get to goods and services in Inyo communities. The pilot program was spelled out in Assembly Bill 628.
Inyo County's handling of this project did go through an environmental review, and then the two environmental groups filed suit. They claim Inyo County failed to address environmental concerns.
Inyo County Counsel Randy Keller said that the County had decided to compile a list of steps to process proposed roads for the Adventure Trail program. He called them steps to analyze the proposed roads. The environmental groups are generally objecting on the grounds of potential environmental harm to plants and wildlife. They also point to noise and impacts on people by riders and vehicles that are not street legal.
In the past, Dick Noles has pointed to approval of the project by the Inyo County Sheriff, California Highway Patrol and Inyo County government. He also said that there are no new roads involved. The roads would be existing county roads that lead to commercial areas. Arizona and Utah operate similar programs.
Noles and others continue to work with communities to list roads that would become a part of this project. More will be known of the legal fight after Friday's settlement conference.