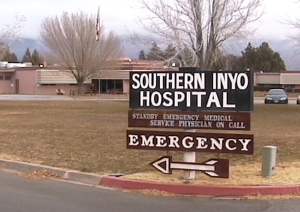 Southern Inyo Hospital Administrator Lee Barron said her trip to Sacramento to save the hospital from devastating Medi-Cal cuts "did not go well." She said she and officials from seven other facilities hoped the Department of Health Care Services would want to work with them. Barron said, "It was not like that at all."
Assembly Bill 97 includes a 46% reduction in Medi-Cal reimbursements for Southern Inyo's Skilled Nursing Facility. This would displace the elderly and frail residents and, as Administrator Barron said, "This could close our entire hospital. We are working on a contingency plan," she said.
In addition to the reimbursement cuts, the State wants to retroactively collect $1.5 million from the small and struggling Southern Inyo Hospital. Barron said when she and other health care officials went to Sacramento recently for a meeting with the Secretary of the Department of Health Care Services, they were told the Secretary had another meeting to go to.
Two other Department representatives did meet with the group. Barron said officials in her group talked about the nearly complete lack of Medi-Cal beds anywhere close to their towns. The Department of Health bureaucrats did not show a desire to ease the pain of the threatened nursing facilities.
Barron said the whole situation is a matter of timing now. She said a lawsuit against the Medi-Cal cuts could go before the entire bench of the Ninth District Court of Appeals. That will not be known until the end of March. Also, another bill has been introduced to restore the Medi-Cal reimbursement rates. Word of that will also come out at the end of the month.
Barron said she and others are asking the Department of Health Care Services to wait until the legal process is done before they try to collect payments. Many are involved in this desperate problem – the California Medical Association, pharmacy groups, district hospitals, rural and urban facilities. Said Barron, "This could shut down facilities across the State." She plans to go back to Sacramento next week to spread the word on what this would do to our area.
Barron said, "This will hurt our local economy, our health care and the personal side." She pointed out that State government finances are much better than they were when AB97 was passed. Said the Administrator, "Just because a bill can be enacted does not mean it's the right thing to do." Barron urged local residents to continue to send letters to legislators whose aides told her that they were well aware of letters that have already arrived.
Emails:
Senator Jean Fuller email – <mailto:[email protected]>
[email protected]
Congresswoman Connie Conway – <mailto:[email protected]>
[email protected]
Letters can go to:
Diana Dooley
Secretary, DHCS (Department of Health Care Services)
PO Box 997413
Sacramento, CA 95889-7413
Toby Douglas
Director, DHCS
PO Box 997413 , MS:0000
Sacramento, CA 95889-7413
Senator Jean Fuller
18th Senate District
State Capitol, Room 3063
Sacramento, CA 95814
Fax: 916-322-3304
Fax: 661-323-0446
Assemblywoman Connie Conway
34th Assembly District
State Capitol Office Rm 2174
Sacramento, CA 94249-0034
Fax: 559-636-4484