Earlier this winter, J.P. Glover of Bishop, better known as the Sierra Phantom, fell victim to a hit and run as he bicycled home from Pleasant Valley Reservoir. Friends have feared the investigation into this crime was dropped. The local California Highway Patrol assures the case remains very active.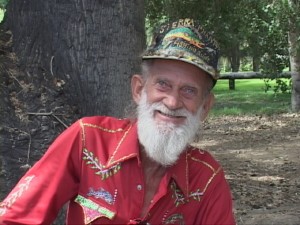 CHP Sergeant Paul Gouailhardou said the case is ongoing, and he talks to officers working on it nearly daily. The Sergeant said officers have one suspect, have issued search warrants, interviewed people and seized evidence.
Two officers are at work on the Phantom case. Local residents said they believed the state budget shortfalls had put a stop to the investigation. Officer Gouailhardou said, not so.
Mr. Glover, aka the Phantom, said he had stayed at Plesant Valley later than usual the night of the accident when a car side swiped him while on his bike. They left him on the side of the road with injuries to his ribs, lungs and shoulder.
The Phantom is well known for sitting on Bishop's Main Street with his unusual artworks.