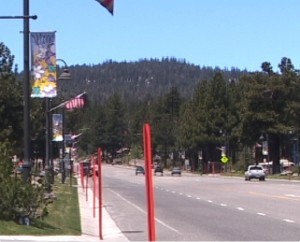 An unnamed developer in the old days in Mammoth Lakes once said that Mammoth looked like a glorified truck stop. Of course, he exaggerated for effect but still made a point about the bowling alley effect of Main St. and the impossibility of walking the downtown. If plans developed by Mammoth Mountain, planners and business owners actually happens, the truck stop days will be a memory.
At the last Town Council meeting, Planning Commission Chair Tony Barrett introduced the re-make of Main St. in Mammoth. The Downtown Concept, as they call it, would get rid of the frontage road, design walkways, parking, better business visibility and snow management, a gondola right into downtown.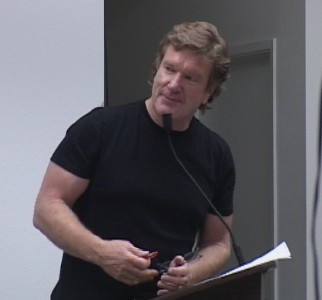 Mammoth Mountain CEO Rusty Gregory had led the way on this plan from the start. At the Town Council meeting, Gregory said during down times is when the "seeds of our success are sown." Gregory's personal philosophy, evident in many venues, is all about getting ready for what will happen next. He said if the town scrambles around wondering what it wants, "life will happen to us." He said capital will come back to Mammoth and the town has to be ready.
Gregory urged leadership. He said it's safer to keep people talking and that's when "life happens to us," he warned. He told the Council flatly that it is their job to move the Downtown plan into law. "We have to be capital ready," he said. Gregory told the Council they should not "substitute further planning for leadership."
The Council got the point. They approved the plan unanimously. Officials said short-term projects will get the plan going. The concept description goes something like this: An attractive, pedestrian-friendly business district with a unique character. A walkable downtown with shopping, dining, entertainment, lodging and housing. A place for events and gatherings.