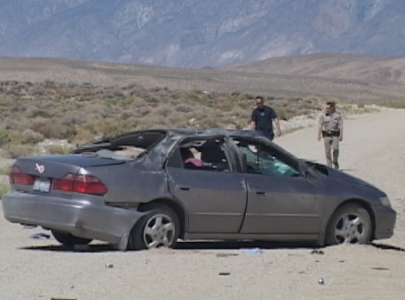 A local woman has died after a vehicle accident on a dirt road north of Bishop.
At about 2:00 pm, Monday, emergency crews in the Bishop area were called out to the Fish Slough area for a report of a possible fatal single vehicle rollover.
The accident occurred about 5.5 miles from the junction of Fish Slough road and Five Bridges Road north of Bishop. On scene, CHP Officers confirmed that the accident was fatal and went to work to investigate who was involved and what had happened.
The vehicle, a silver Honda Accord, appeared to have been travelling southbound on Fish Slough Rd. when the accident occurred. The badly damaged car appeared to have rolled over before coming to rest on its wheels in the middle of the road.
What caused the accident remains unclear. At press time, the name of the female driver had not been released, but officers did confirm that the driver was a local resident.
Even what time the accident occurred is unknown at this time. CHP officers say that a Fish and Game employee found the vehicle Monday afternoon, but the accident may have occurred Sunday night. Investigations into this tragic vehicle accident continue.