A Bishop Police Officer was taken to Northern Inyo Hospital Wednesday night after a vehicle accident on Main St., Bishop.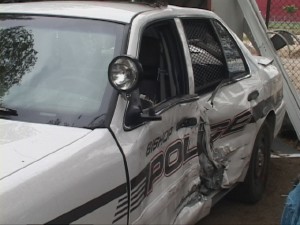 According to the Highway Patrol, a 40-year-old Bishop woman, driving a 2000 Ford Excursion, was driving onto N. Main Street from West Elm St, possibly attempting to turn across the northbound lane into the AM/PM. Officer Brent Gillespie with the Bishop Police was driving northbound in a marked police vehicle, a 2003 Crown Victoria, at an unstated rate of speed. The two vehicles collided at the intersection of N. Main and W. Elm.
What caused the accident, and the speed of the officer remains under investigation, but CHP officer Laura Roberts explained that the Ford Excursion t-boned the police cruiser, knocking the vehicle into the light pole in front of the AM-PM.
CHP officers did report that the police officer was not wearing a seatbelt. Bishop Police Chief Kathleen Sheehan explained that under the vehicle code officers are not required to wear seatbelts, though she adds, we do encourage it.
Chief Sheehan reports that Officer Gillespie is for the most part okay. The Symons Ambulance crew strapped the officer to a backboard, but his spine was cleared by x-ray at the hospital. Chief Sheehan says that there were no broken bones, but the officer did suffer facial lacerations and bruises.
Sheehan says that the officer had just called dispatch to state that he was headed to back up an Inyo Sheriff Deputy on another call when the accident occurred.
With an officer involved in the collision, the Bishop Police asked the Highway Patrol to handle the investigation. Chief Sheehan reports that the accident is handled just like any other vehicle accident. The one difference is that while private citizens can exchange information and let the insurance companies go to work, any time a city vehicle is involved in an accident, a more thorough investigation is required to see if we did anything wrong, and if we did, what we can do to avoid doing it in the future.