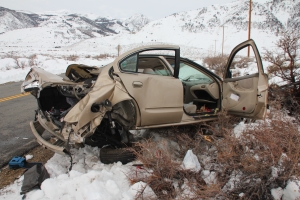 UPDATE:
Late this afternoon the Mono County Sheriff-Coroner Department advised they had successfully notified the next-of-kin from this morning's fatal traffic collision in the Mono City area (US 395 & Lundy Lake Road).
The driver (deceased) was:  Linda Sue Fulp, age 51, from Fallon, Nevada.
The injured right front seat passenger is: Sabrina Maria Castleberry, age 21, from Lancaster, California (who received moderate injuries and was treated and released from Mammoth Hospital this morning).
The CHP wishes to extend our condolences to the family and friends of Ms. Fulp.
(Press Release – CHP)  On Wednesday, March 5, 2014, at approximately 5:36 A.M., California Highway Patrol (CHP) Bishop Communications Center (BICC) received a report of a solo vehicle collision on Lundy Lake Road, west of US 395.  Multiple CHP personnel were dispatched simultaneously with Mono City Fire Department, Lee Vining Fire Department and two Mono County Paramedic units.  Upon arrival, CHP personnel located a 2004, brown, Oldsmobile, Alero with significant collision damage.
The preliminary investigation indicates the driver of the Oldsmobile was traveling westbound on State Route 167 at a very high rate of speed, failed to slow for the stop sign at US 395, became airborne in western direction, made a hard landing on Lundy Lake Road, traveled off the north road edge of Lundy Lake Road and rolled several times causing severe damage to the entire vehicle.
Collision damage trapped the driver in the vehicle.  The passenger was ultimately able to exit the vehicle.  Fire department personnel arrived and utilized forcible entry power tools in order to gain access to the trapped driver, who Mono County Paramedics determined was deceased.  The passenger was cared for at the scene and then transported by Mono County Paramedic Unit 7 from Bridgeport to Mammoth Hospital.
The vehicle contained multiple empty alcoholic beverage containers, and alcohol use appears to have been a factor in this fatality collision.  The Mono County Sheriff-Coroner Department will be investigating the exact cause of the driver's death. Toxicology information obtained from the autopsy will be considered in determining if impairment by medication, drugs or alcohol may have been a contributing factor in this collision.  The name of the deceased driver can not be released at this time pending verification of identity and notification of the next-of-kin by the Sheriff-Coroner.
"I would estimate this vehicle was traveling at over 100 miles per hour.  It appears after leaving the road it traveled over 200 feet, only touching the ground four times before landing at its point of rest," said Lieutenant R. D. Cohan, commander of the CHP's Bridgeport Area.