FOR IMMEDIATE RELEASE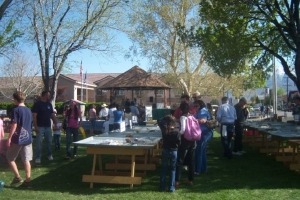 The Bishop Area Chamber of Commerce & Visitors Bureau is busy gearing up for the 2013 Eastern Sierra General Trout Season Opener.  Several great events are planned to celebrate the opener and everyone is invited to join in the fun!
Rainbow Trout Display and Opening Day Fish Festival in the Bishop City Park – The Bishop Chamber of Commerce has teamed up with The Bishop Lions Club AND ALTA ONE FEDERAL CREDIT UNION to bring back this beloved event.  On Saturday, April 27th, anglers can register and display fish from 2pm until 6:30pm – prizes will be awarded at 7pm.    Everyone who displays fish will have a chance to win…for every fish entered, participants will receive one ticket to the HUGE RAFFLE.    Prizes will include rod & reel combos, tackle & gear, apparel, gift certificates and much, much more!
There will be live music, demonstrations, VENDOR booths and kids activities.  "Just for fun" prizes will be awarded for biggest, ugliest & most beautiful fish.  Registration for the trout display is absolutely FREE – just bring your opening day catch to the city park to show off & win great prizes!
For more information about Rainbow Days Trout Display, please contact the Bishop Chamber office at 760- 873-8405.
On Saturday and Sunday, the City of Bishop Parks & Recreation Department will host the third annual Kids' Fish Camp.  Children ages 6-12 will learn basic fishing skills and much more.  Pre-registration is required and space is limited.  For more information about Kids' Fish Camp, contact City of Bishop at 760-873-5863.
TROUT PLANTS –
According to the Inland Aquaculture Group, the following bodies of water will be stocked between April 22nd and April 26th with a nice mix of 2 to 5 pound Alpers Trout from Conway Ranch courtesy of the Eastern Sierra Fishing Coalition and Mono County.
Upper Twin Bridgeport
Lower Twin Bridgeport
Bridgeport Reservoir
Crowley Lake
Convict Lake
Grant Lake
Gull Lake
June Lake
Silver Lake
Lundy Lake
West Walker River
The following bodies of water will be stocked between April 22nd and April 26th with Super Stocker Alpers Trout from Conway Ranch courtesy of the Bishop Chamber of Commerce and Inyo County.
Bishop Creek
Diaz Lake
Tinnemaha Creek Campground
Taboose Creek Campground
Independence Creek Campground
Wishing everyone a wonderful Opener and a happy 2013 fishing season.
Inland Aquaculture Group LLC
Conway Ranch Foundation Inc.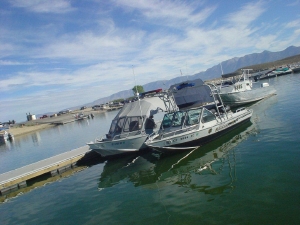 RE: Fishing and Boating Season is upon us
It is that time of year! Fishing season is upon the Eastern Sierra with opening day set for Saturday, April 27th. With the large number of fishing enthusiasts anticipated to be on the waterways of Mono County, the Mono County Sheriff's Department would like to remind boaters, float tubers, etc. to think safety first while enjoying their fishing activities.
The Mono County Sheriff's Department continues to operate our Boating Law Enforcement Program under grant funding from the State of California and the Department of Boating and Waterways. The department operates patrol boats across all the major waterways throughout the county, and will be enforcing boating laws and ensuring everyone's safety throughout opening weekend. Please remember to use caution and common sense when operating any type of watercraft for your safety and for the safety of those around you.
Also, as a reminder to visitors and residents alike, always be prepared for changing weather conditions along with hazardous conditions on some of our lakes. Even though our winter is not what most would've called heavy, some lakes are softening up due to the recent warm weather. Be aware and use caution around any lakes that still may be covered with ice as they may be dangerous to walk on. Anytime you are experiencing our beautiful county, make sure someone knows where you are headed and be prepared for rain, snow, freezing temperatures, or that perfect blue bird sunny day.
Enjoy yourself this opening weekend and good luck catching the "Big One!"
Written and prepared by Jennifer Hansen, Public Information Officer
2013 NOTICE CROWLEY LAKE BOATERS
MANDATORY BOAT INSPECTIONS
TO HELP PREVENT THE SPREAD OF INVASIVE MUSSELS
All motorized vessels planning to launch at Crowley Lake must enter through the main gate at the South Landing and must be inspected. No boat access will be available at any other area of Crowley Lake. Boats showing signs of contamination with invasive mussels, or found to contain any water or debris that could harbor invasive mussels, will not be allowed to launch into Crowley Lake. Frequent users of Crowley Lake can arrange with Crowley Lake Fish Camp to store their boat on-site.
Boat owners may have their boat inspected and receive an Inspection Certification prior to arriving at Crowley Lake's South Landing at this location:
1. April 24, 25 from 7:00 am to 7:00 pm and April 26 from 7:00 am to 10:00 pm at the Bishop VONS/KMART parking lot at the corner of Main Street (SR 395), Wye Road and SR 6.
2. Beginning April 24 at Crowley Lake's South Landing: April 24, 8:00 am – 5:00 pm; April 25 through the duration of fishing season 7:00 am – 7:00 pm.
Only pre-inspected boats will be allowed to enter the gate or launch at Crowley Lake after 7:00 pm on April 26. Inspections will resume at 7:00 am on fishing opening day. Pre-inspected boats may use the pre-paid line at the main gate at South Landing of Crowley Lake to expedite entry.
If you are planning on launching a boat into Crowley Lake please keep the following in mind:
␣ ALL boat owners are required to fill out a written questionnaire concerning the boat's past use
␣ ALL boats will be thoroughly inspected
␣ ALL boats and trailers must be CLEAN and DRY or they will be denied access
␣ ALL DRAIN PLUGS must be pulled or opened prior to boat transport that day
␣ ALL vehicles towing boats will be required to have a visible Inspection Certification during boat launching at Crowley Lake
Boat owners should be aware there may be an extended wait to enter Crowley Lake Reservoir due to these important protective measures. Inspections are required for the protection of the fishery at Crowley Lake and in order to keep the reservoir open to recreational boating. The Los Angeles Department of Water and Power and Crowley Lake Fish Camp appreciate the cooperation of boat owners and will work to expedite the inspection and certification process.
For more information contact LADWP at (760) 873-0409 or www.LADWP.com/mussels or Crowley Lake Fish Camp at (760) 935-4043.