From Christine Knadler
Caltrans Maintenance Public Information Officer
The morning of May 4th arrived with a burst of sunshine. Clouds dotted the tips of the Sierras, the skies had reached a vibrant blue, and U.S. Hwy 395 was sparsely strewn with travelers.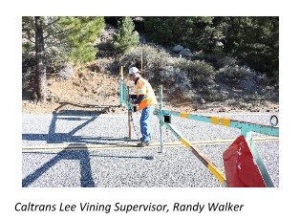 As I drove north from Crowley Lake to Caltrans' winter closure gate on Tioga Pass, I enjoyed the anticipation of the ceremonious reopening of that gate at 8:00 a.m. by Caltrans Lee Vining Supervisor, Randy Walker.
Ceremonious to me meant I would snap a few pictures while he and I waved happily as travelers drove past the gate. Randy had informed me yesterday that his crew had been working relentlessly over the past several weeks, clearing rockfalls, mudslides, and uprooted trees. All the damage from these events also required extensive roadway repair work.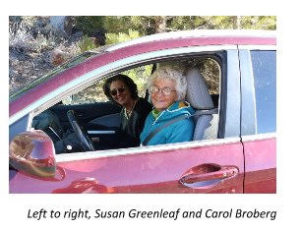 The first people to arrive at the gate and the first on the freshly manicured roadway, were Carol Brobert and Susan Greenleaf, both locals excited to ski Falsewhite Mountain. Carol told me, "One of the local Caltrans employees, Florene (a District 9 Public Information Officer), promised me she would personally call me when she knew the gate was opening". Florene called her yesterday, as soon as the Lee Vining crew announced their plans to Caltrans district office in Bishop.
Following Carol and Susan, a recreational vehicle filled with skiers hooted and hollered their excitement to Randy and me on their way in. Several other cars, filled with thumbs up and happy waves, passed us by. It was clear that this short section of SR 120 is something special to each of these people as they passed by us and through the opened gate.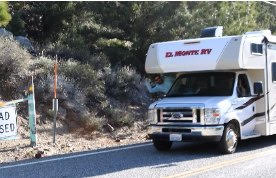 For many years, the opening of the lower gate has meant an increase in visitors to the Lee Vining area. Two employees of Tioga Gas Mart, Jan Johnson and Heather Roberts, reported to me that due to the announcement (of the opening) "We have 20 patrons here (at the Tioga Mart) today, instead of none" (this time of year).
A Caltrans Lee Vining crewmember affectionately known as Truck, was headed out of the store. Jan informed me that Truck faithfully kept them (at Tioga Mart) informed of all roadway issues as they often are asked by travelers.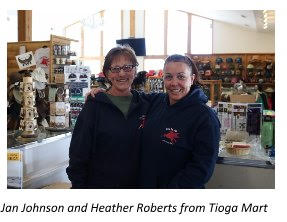 Jan went on to say that having the lower gate up to the Park entrance open meant the world to all the markets, gas stations and gift stores in Lee Vining. She stated that picnickers, campers, hikers, skiers, and fishermen all wait patiently to enjoy the land beyond the gate.
-Christine Knadler, Caltrans Maintenance Public Information Officer