Press release
On Thursday June 27th, at the Inyo Council for the Arts Theatre Room, Spellbinder Books in Bishop will be hosting a history program presented by author David Woodruff titled, "A Sentimental Journey Along Highway 395."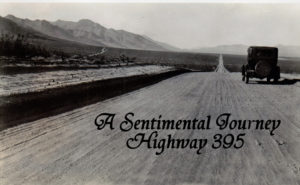 Three-ninety-five…this magical ribbon of blacktop, has been taking people on a sentimental journey for over 100 years. Rarely does a roadway invoke such powerful, nostalgic memories as "The Mountain Highway".
In the presentation, Woodruff will take a reflective look at the people and places that have helped shape the Eastern Sierra into more than just a vacation wonderland, but into a blissful state of mind and memories that inspires and galvanizes virtually everyone, from visitors to longtime residents.
Woodruff will also be introducing his new book, Tales Along El Camino Sierra, Two!, a sequel to the popular Eastern Sierra history book he has written with his wife Gayle.  The Woodruffs have lived, worked and vacationed in the Eastern Sierra for over 50 years and have conducted extensive research using a variety of educational and cultural resources to publish their 6th book on Eastern California history.
The history program and book-signing event will be held on Thursday evening June 27th at the Inyo council for the Arts Theatre Room, 137 South Main St in Bishop, and hosted by Spellbind Books.
The program starts at 7:00pm and is free and open to the public. Spellbinder will have books available for purchase and light refreshments will also be served. For more information you can call (760) 873-4511.