On Monday, a wide variety of law enforcement officers teamed up to eradicate a large outdoor marijuana farm growing in the Glass Mountains. While the helicopter was still in the air, flying loads of marijuana out of the remote site for disposal, Mono Sheriff Rick Scholl said that it appeared about 16,000 plants had been destroyed. Since that interview Monday, law enforcement has eradicated additional marijuana plants in Mono County.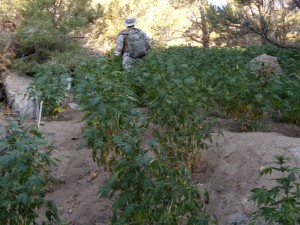 On Monday Sheriff Scholl said that he had no doubt that other farms would be found in the Eastern Sierra this summer. It didnt take long for his prediction to come true. When we spoke to Scholl on Wednesday, he explained that the helicopter assigned to the operation was available again on Tuesday, so a spotter flew additional missions and found another farm near Wildrose Canyon.
The two sites are about seven miles apart by air, longer by ground. The Sheriff says that officers dont know if the two farms are related to each other. No one was arrested at either.
Mono Narcotic Agents report that additional eradication efforts Wednesday bring the total haul for the week to 26,300 plants. Scholl says that had the plants matured, they could have yielded 12 tons of marijuana at an estimated value of $75 million.
Despite the large scale of the operations, no one was arrested. Scholl explained that its likely the people on the ground took off when the helicopter spotted the second farm. The cultivators at the first farm likely had a number of reasons to be spooked. The first farm was also spotted by helicopter, and by arrowhead hunters. There had also been a lightning fire in the area of the first farm, with a fire fighter response.
With fertilizer, irrigation, and farming efforts, the Forest Service is expected to head into the area to rehabilitate land damaged by the cultivators.
If you do find one of these marijuana farms, or signs of a farm, like black plastic irrigation tubing, and fertilizer, officers recommend that you leave the area immediately, take note of the location, and notify law enforcement.