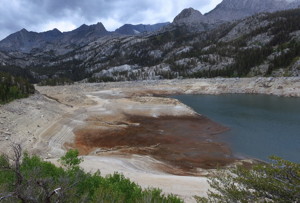 As wells go dry in West Bishop, one resident, Philip Anaya, has launched an effort to impact the management of the Bishop Creek drainage next summer.
Anaya read a letter to the Inyo Supervisors on Tuesday that he has sent to Department of Water and Power Manager James Yannotta. Anaya's goal is recovery of South Lake and Lake Sabrina, which both nearly dried up last summer and seriously impacted businesses in that area.
Anaya wrote that the recovery of the lakes is "held by both the Edison Company and DWP." Anaya said in communications with Supervisor Rick Pucci the idea developed to do something about the lakes and the environmental and economic impacts.
Anaya said he knows that this winter's snowpack and spring runoff will affect the whole situation, but he hopes that management of the release of waters will also make a difference. Anaya calls for allowing the lakes to fill to the "highest possible elevation and then manage releases with all the needs of the concerned entities considered."
The letter to DWP Manager Yannotta asks him to take the initiative and reach out to interested parties and to gather ideas and comments on lake management. Anaya wrote, "If there could be a shared successful solution, it might become a template to resolve other issues that we spend so much time confronting each other instead of cooperatively finding solutions."
Anaya planned to talk about his ideas at the Thursday Bishop Chamber of Commerce Board meeting.