A month ago, Inyo District Attorney Art Maillet fired his assistant, Will Richmond.  Now, he has appointed his own deputy as his new assistant.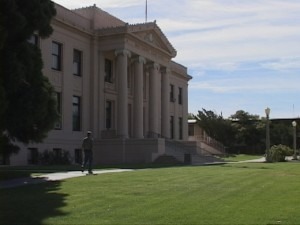 Joel Samuels has taken the job as Assistant District Attorney. This move marks the third assistant for DA Art Maillet in roughly two years.  Mark Johnson retired on the heels of a controversial release of confidential court documents.  After that, former Alpine County District Attorney Will Richmond took the job as Maillet's assistant.
One year later, Richmond said, he came to work one morning and Maillet handed him a notice of termination.  Richmond said Maillet told him he didn't have time to discuss it and walked out.
Asked why he thought Maillet terminated him, Richmond had said, "There was an obvious opinion on how to manage the office and how to be an effective prosecutor.  I cut it a little thin for his tolerance."
Sources from within the legal community have said that the new Assistant DA Joel Samuels has a history of "unprofessional dealings" with defense attorneys.  Now, he is second in command.