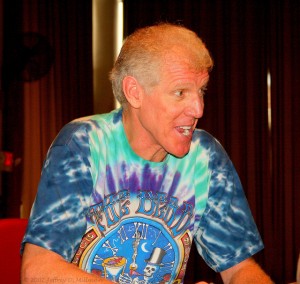 What promises to be not only a fun but also a truly fulfilling weekend is here, Eastern Sierra Land Trust's Lands and Legacy Weekend, featuring legendary basketball great Bill Walton.
Walton headlines a series of events and fundraisers to benefit Eastern Sierra Land Trust, which works to preserve critical lands in the Eastern Sierra.
Walton's basketball legacy is among the greatest in history, this despite chronic foot injuries that never let him play at his highest level during an NBA career in which he won two titles, with the Portland Trail Blazers and the Boston Celtics.
Walton's collegiate career is among the greatest in history, with three straight NCAA Player of the Year Awards (he played when freshmen weren't eligible), two titles and helping UCLA to a record 88 straight victories.
Walton calls himself "the luckiest man in the world" after overcoming such serious back problems that he was floor-ridden for three years.
But he's in the High Sierra this weekend to support Eastern Sierra Land Trust, with a basketball clinic Friday at Mammoth High, a bike ride around the June Lake Loop Saturday with a gala dinner that night at Mammoth Mountain.
Walton told Sierra Wave Media in an interview (part of which can be viewed in our news at the bottom of the website) that he will sign all memorabilia and take plenty of pictures at the Saturday night party, featuring music by the Flashbacks.
For more information, check out the website eslt.org