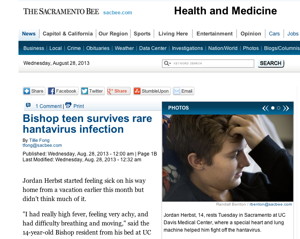 As we had reported, Jordan Herbst, 14, of Bishop contracted and then survived hantavirus this summer. His dramatic story highlights the need for awareness and caution about the disease. Jordan's mother, Katharine Allen hopes awareness is one of the benefits that will come out of her son's ordeal.
Ms. Allen thought her son may have been exposed to hantavirus in a mining cave. She said that the State Department of Health has come to the area to do some trapping but has reached no conclusions yet. Hantavirus is transmitted through the droppings of mice. Allen said that there are a lot of aspects to Jordan's story that are "important for us locally."
She said first, it's important to know who the top-level trauma centers are when needed. When his flu-like condition deteriorated in August, Jordan was airlifted from Northern Inyo Hospital to Renown Medical Center in Reno. He continued to grow more ill. From Reno, Jordan was flown to UC Davis Children's Hospital for use of special equipment to help his lungs and heart. This saved his life.
The other point of awareness, as Jordan's mother said, is the danger of contracting hantavirus where rodents live. She hopes our local youth will be reminded of this very real danger. As Ms. Allen said, "Jordan has grown up around it all his life but you don't really think about it in any mindful way." Many of us can say that, and Jordan is a personal reminder. You can also check out the precautions needed to avoid hantavirus by going to our website, sierrawave.net and searching hantavirus.