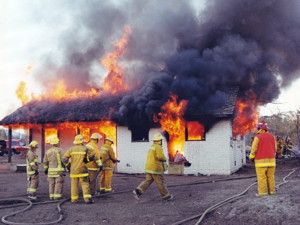 Big Pine Volunteer Fire Department Calendar Fundraiser PSA
Remember the horrific 800-acre Center Fire in Big Pine on March 18, 2011 that threatened to engulf the town and destroyed 19 structures? High winds made fighting the fire especially hazardous. The Big Pine Fire Department, established in 1946, was once again on the front line, saving lives and property.
Do you ever wonder when the local emergency siren sounds at 2 or 3 o'clock in the morning, especially in the dead of winter, "for whom the siren sounds"? Often it is in response to a serious car accident or medical emergency.
Residents can show their appreciation of local volunteer firefighters by supporting the Big Pine Fire Department's 2014 Calendar Sale. It is one of the department's largest fundraisers and the funds are used to provide supplies and equipment needed by our local volunteer firefighters.
At $5.00 each, the calendars are a real bargain and you can hardly find a better cause in support of your community. These firefighters, both men and women, are literally the front line in public safety.
Over the next two weeks, supporters will be going door-to-door asking for the community's support. The calendar orders must be received by Thursday, August 15, although donations can be given any time of the year.
Please support our local firefighters! To order your fire department calendar, please call Marilyn Mann at (760) 938-3339.