The troubled Eastern Sierra Unified School District appears to have received some good news amidst a grim economic outlook.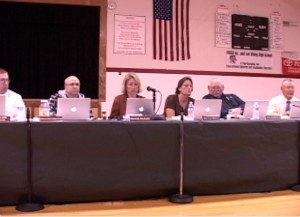 The district faces a $1.9 million budget shortfall this year that will lead to teacher layoffs, cuts, and possibly the closure of schools. The cause of the budget shortfall this year can roughly be split down the middle with about $900,000 due to a drop in revenue money coming in and about $1 million due to spending too much.
A $500,000 drop in property tax revenue, along with $100,000 in state budget cuts, contributed to the shortfall, but a failure to apply for state class size reduction money added an additional $300,000 to the districts financial woes.
Its this $300,000 mistake that now appears to be corrected. Catherine Hiatt, the Superintendent of Mono County Schools reports that her office has been able to convince the state officials to reverse the decision on the class size reduction money. This issue was expected to hurt the district into the future since the next chance to apply for the money was 2012-2013, but Hiatt explained that this money is now slated to come back to the Eastern Sierra Unified School District for this year and through 2010/2011. She calls this great news.
Eastern Sierra Unified School District Superintendent Don Clark also stated that this is good news and explained that how the money will be used is up to the school board. The $300,000 helps fill the hole, and will be used to offset cuts, but the details are still to be determined.
Clark credits Stacey Adler with the Mono County Office of Education, State Senator Dave Cox, and Assemblyman Tom Berryhill for putting in the work to convince the state to reconsider.
Despite this bit of good news, significant money problems remain. Public meetings to come up with budget cutting ideas continue in the face of layoffs that appear inevitable.