Frank Myrlin Carr Sr. born to Roy and Marguerite Carr December 26, 1931, passed away peacefully in his sleep September 1, 2018.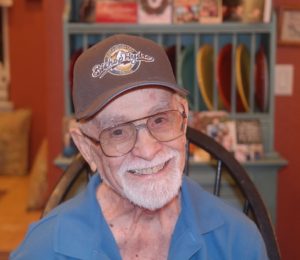 If you were his friends from school you knew him as Myrlin, if you were an Air Force buddy or co-worker you knew him as Frank.  He was a good friend and stayed in contact with many of his classmates throughout his life.
Born and raised in Bishop, a Bishop Union High School alumnus receiving his diploma  in 1951, he then joined the Air Force. After his stint in the military he came back to Bishop to settle down.
In his younger days he sometimes worked three jobs just to take care of his growing family. He retired from CalTrans after 38 years of service. He lead by example the importance of family, and instilled in his children and grandchildren a strong work ethic. He may not have had much, but he was richly blessed with the love of those who knew him.
He leaves behind his loving wife, Mary Jane (Lutzow), they were married 66 years. Also, he is survived by his children Frank Jr (Micky), Annetta (Jack), Robert (Kristin) and David (Refugio), his eleven grandchildren Carr's Matthew, Aaron, Seth, Whitney, Garrett, Shannon, Raymond and Ryan, Morley's Kevin, Jamie and Daniel, 24 great grandchildren, brother-in-law Warren Lutzow (Lori), numerous nieces and nephews.
He was a devoted husband, father, grandfather and great grandfather.
He was preceded in death by his parents and sister Phyllis Fechner.
A celebration of life will take place at a later date. No flowers please, if you feel inclined please donate to your favorite charity.