Last Friday and into Saturday morning the power went down for some 900 customers in Bishop. Edison spokesman Dan Brady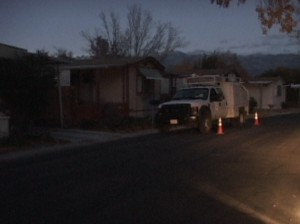 said a raccoon got into the power lines off North Sierra Highway and caused a "circuit interruption."
Brady said that the power went down around 1:30 Saturday morning. Power went back on briefly and then Edison crews took electricity down around 3am to do major repairs. Brady said the problem was on a power pole just past Highlands Mobile Home Park. Crews pulled the dead raccoon out of the wiring, he said, and worked for the next five or six hours on repairs.
Power was restored at 10am Saturday. Customers in Highlands, Meadow Creek and west through Wye Road experienced the prolonged outage. Residents of Highlands contacted Sierra Wave to say they were particularly frustrated since their power was the subject of a lengthy Edison job earlier in the winter.
Edison has had ongoing problems in the Eastern Sierra. During the holidays, an extended outage hit Mammoth Lakes. Brady said the problem was with an underground cable junction which failed. Due to severe weather and highway closures, the repair was tough. During that time, Brady said, Edison called in 10 crews to work on problems here.